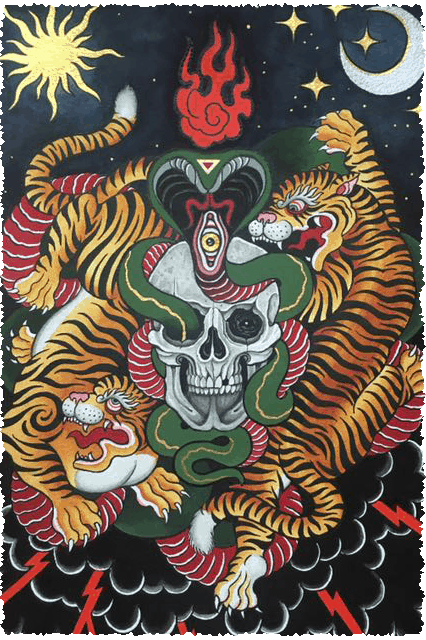 This is not modern yoga, but the original practice which dates back to pre-vedic times and has been  handed over to the truly devoted, who are longing for transformation and are not afraid of hard labour and obstacles.
The methods shown, even though at times appearing easy, are deeply effective and may contain some dangers, if practiced without the necessary care and caution. Heed the warnings of the teacher and practice slowly and carefully. In seminars, class or at home, practitioners should always be aware that they approach this ancient and powerful system at their own risk.
Hatha-Yoga is the most powerful archaic system of transformation and self-realization, and in order to attain the sweet fruits of the higher stages, one must obey the voices of the genuine masters, follow the rules, proceed slowly and be ready to take responsibility for oneself.
Reinhard Gammenthaler - Teacher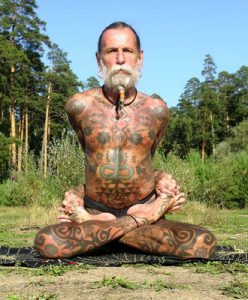 Reinhard was the last student of Swami Dhirendra Brahmachari. After years of preparatory practice in Switzerland and West Africa he arrived in Delhi in the year 1988 and was introduced in all the ancient pranayama techniques laid down in the yoga shastra, the old text books of yoga.
One year before, in 1987, Dhirendra Brahmachari had shut down all his ashrams in India, because until this time he had never found an apt disciple and successor amongst the many visitors and teachers of his ashrams. Reinhard showed great devotion and willingness to become a yogi, and so the guru accepted him and sent him to a remote valley in Indian Kashmir, where he lived and practiced in complete isolation in Aparna Ashram.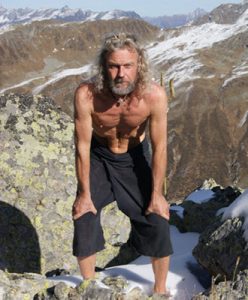 Rainer started practicing yoga in 1991 at the age of 21 in South India. He was a seeker, practicing different styles of yoga like Sivananda Yoga, Iyengar Yoga, as well as some modern styles. In total, he had lived in different Ashrams in India, Canada, and Germany for two years before he had the great joy to meet Reinhard Gammenthaler in 2007.
This first encounter made Rainer feel he had arrived at Yoga, and since then, he has been practicing only the traditional Kundalini Yoga techniques passed on from Reinhard.
Week 1:   Mo 02.03. – Thu 05.03.2020
Week 2:  Mo 09.03. – Thu 12.03.2020
Week 3:  Mo 16.03. – Thu 19.03.2020
Week 4:  Mo 23.03. – Thu 26.03.2020
Four days practice followed by three days off.
Morning session:     09:00 – 12:00 am
Afternoon session:  03:00 – 06:00 pm
One week:      € 380.00
Two weeks:    € 550.00
Three weeks: € 700.00
Four weeks:    € 850.00
Course fee for Indian people only
One week:      Rs 16,000.00
Two weeks:    Rs 28,000.00
Three weeks: Rs 38,300.00
Four weeks:    Rs 47,800.00
Best double:          Rs 2,000.00 per day  (approx. € 25.00)
Medium double:  Rs 1,500.00 per day (approx. € 18.00)
Dormitory:             Rs 300.00 per day  (approx. € 3.60)
Prices are from 2019 and might be subject to slight changes.
All rooms are double rooms, very nice, big space, clean and friendly with WiFi.
The resort offers a large garden with a lot of space for sunbathing or playing. There is a big swimming pool.
Information for traveling to India
You need a Visa for India. The price for E-Visa from Europe is approx. € 150.00, valid for 60 days.
By car: The trip from Delhi to Pushkar takes around  6 – 8 hours. Price for taxi is approx. Rs 6,200.00 (approx. € 100.00)
By train: Shatabdi Express, Train Nr. 12015, departure every morning at 6:05 am from New Delhi Rlwy Station (near Main Bazar, Pahar Ganj), arrival at 12:45 am in Ajmer. From Ajmer to Pushkar you have to take a taxi (about 17 km only). Price for train approx. Rs 1.500,00 (approx. € 18,00). Tickets can be booked easily from any travel agent in Delhi or Pushkar. Booking is necessary, as seats are numbered.
By Bus: If it is possible to gather a nice group arriving on the same day at Delhi Intl. Airport, the resort would send a sleeper bus for a direct transfer to Pushkar. Price for the bus would be about the same like for train.
Morning chai is free
One meal:  Rs  300.00 (lunch)
Two meal:  Rs 600.00 (dinner)
The food is Vaishno (lacto-vegetarian, without garlic, onion, chili, eggs, meat and fish.
Only yogic-sattvic food for good practice. The milk comes from nearby farmers, the vegetables are organic.
Food will be served as a buffet twice a day. The restaurant is nice, with possibility to sit in a shady garden. There is a billiard (pool) table. 
Pushkar is a very holy city. The lake of Pushkar is unfortunately a bit dirty because of lack of rain, but still a magnet for Hindu pilgrims. The city is very colourful, with nice bazars, friendly restaurants and many temples and holy sites. Inside the city is the only Brahma Temple of India. Nearby is one of the 52 Shakti Peeths of India, a Chamunda Temple.
The resort is only 5 minutes footwalk from Pushkar, but still peaceful and in a rural area. There are many possibilities for long walks, or sightseeing in Pushkar, Ajmer, Jaipur and Udaipur. The Rajasthani people are very friendly. There are possibilities for horse riding. 
People who are interested in Vedic Astrology have the possibility to meet an original Jyotish (vedic astrologer) at the resort. For ca. Euro 35.–At the resort lives a Jyotish, an Vedic Astrologer. If you want you can make from him a Jyotish. If you want this, you have to know your place of birth and the exact time of birth. For a genuine horoscope you would need to know the exact date, time and place of birth. A Horoscope is approx. € 35,00. 
For those who would like to explore colourful Rajasthan after or before the seminar, there is a possibility to book a group-tour (min. 10 people) in comfortable luxury bus. The price per person is approx. € 800.00, incl. hotels and meals. The tour lasts 10 – 12 days. Visit and sightseeing in Jaipur, Jaisalmer, Jodpur, Udaipur, Ranakhpur and Ajmer. Accommodation in very good 4-star hotels. Possibility for camel riding, and one or two nights in nomad`s tents in the desert.
During the retreat all participants are kindly asked to follow vegetarian diet, refrain from alcohol, drugs and smoking in public areas. 
For more more information don't hesitate to contact me. I will be happy to assist you.
Workshop in Pokhara, Nepal
October 14th  –  October 21st, 2018
Workshop in Donja Brezna, Montenegro
May 13th  –  May 23rd, 2018
Workshop in Pushkar, Rajasthan, India
March 2020